PPSC Inspector is the dream job for most of the aspirants who reside in Punjab. Good News is the most awaited and most popular exam for the aspirants of Punjab is going to be held soon for the 320 new posts. Once we are recruited as PPSC Inspector so what are the perk, salary details, Important dates, Syllabus eligibility criteria, and How to apply for the post all the required details will be shared below.
PPSC Inspector 2021: Important Dates
The Punjab Public Service Commission invites Online Application Forms from eligible candidates for recruitment to 320 posts of Inspector, Cooperative Societies in the Department of Cooperation, Government of Punjab.
In the Examination like PPSC Inspector we should ahead one step from our competitor, we should know when the examination is going to happen and all the syllabus so that we can start a little early and gain an extra advantage.
Those are the main reason for sharing the details of PPSC Inspector 2021 so that the aspirants who took it seriously can gain extra advantage and do well in the exam.
| | |
| --- | --- |
| Event | Date |
| Online Application Start Date | 2nd December 2021 |
| Online Application End Date | 22nd December 2021 |
| Online Submit of Exam Fee | 29th December 2021 |
| Admit Card Download Date | To Be Notified |
| Examination Date | To Be Notified |
| Result Published Date | To Be Notified |
PPSC Inspector 2021: Vacancy Details
PPSC has already released a vacancy for the 320 PPSC Inspector post for the year 2021 .Look out the details present in table for complete details.
PPSC Inspector 2021: Eligibility Criteria
Candidates Age Should be Between 18 years to 37 years.
Candidates Must have Bachelor's degree or equivalent in any stream with minimum sixty percent marks from a recognized university or institution. Graduate with 60% marks in any stream
Candidates Should have passed a Computer Course of at least one hundred and twenty hours with hands on experience in the use of Personal Computer or Information Technology in office productivity applications or Desktop Publishing applications from a Government recognized institution or reputed institution which is ISO 9001 certified. Provided that if similar course was a part of the curriculum in the Degree Course and the candidate has passed the said course as a subject of his degree class then the condition of his having studied and passed the above said computer course shall not apply
Candidates Should have passed Matriculation examination with Punjabi as one of the compulsory or elective subject or any other equivalent examination in Punjabi language.
PPSC Inspector 2021: How To Apply Online
Candidates must check their eligibility Criteria before applying for the posts.
Candidates Need to visit the PPSC Official website to fill the Details Online . PPSC Official Website details you will find bottom of this page.
Candidates are advised to fill their details in the online application form carefully e.g., Name, Father's Name, Date of Birth, Category for post, Qualification, Experience, Photo & Signature, Category for fee, etc. After the final submission of online application form by the candidate, no change will be allowed, and candidate will be responsible for any mistake in the data filled in the online application form.
Candidates are NOT REQUIRED to send the hard copy of the Online Application Form to the Office of Punjab Public Service Commission
Candidates are advised/ directed to take copy in soft form/print out of the Application Form at the time of applying, otherwise he/she will not be able to take out the copy at a later stage
Candidates must retain the hard/soft copy of online application form along with all eligibility documents ready to be sent at a short notice to PPSC, whenever required by PPSC.
PPSC Inspector 2021: Examination Fees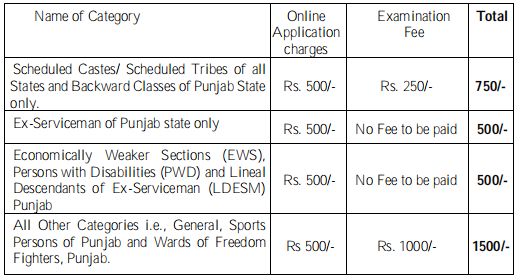 PPSC Inspector 2021: Salary Details
PPSC Inspector get the salary of pay of Rupees 35400/-. The minimum pay admissible for the ibid posts shall be as per Notification No. 7/204/2012-4FP1/66, dated 15/01/2015 Government of Punjab, Department of Finance (Finance Personnel-I Branch) Chandigarh, and Notification No. 1/62016- 4P.P.1/834680/1 dated 07/09/2016 Government of Punjab, Department of Personnel PPI Branch Chandigarh, fixed emolument equal to Minimum Pay without any allowance will be paid during the probation period of 3 years .
PPSC Inspector 2021: Exam Pattern and Syllabus

No interview shall be conducted for selection to these posts. The written competitive examination for the post will be scheduled soon. The exact date of exam will be decided and intimated later keeping in view the public health safety issues. 6.2 PATTERN OF THE WRITTEN COMPETITIVE EXAMINATION The pattern for written competitive examination comprising of 120 questions (@ 4 marks for each question) is as follows:
Official Website Link — > Click Here
Official Notification PDF — > Click Here
Contact Me
Link for the Telegram Group –> Click Here
You can Contact Use Here –> Click Me
I have mentioned my personal details in my About Us Page you can contact me there as well.
Frequently Asked Questions
PPSC Inspectors are getting a salary of around 35400-/ Month.
PPSC Inspector Online Application form Fill-up will be continued till December 22. But the last date of online Payment is till December 29.
No, the PPSC Inspector exam will be conducted in Pen, Paper Mode.
ALL The Best Guys For Your Exam and For Your Career